The Chinese smartphone maker company pulls the curtain off from their upcoming flagship smartphone, Huawei Honor Magic.
The has same similar esthetics like Samsung Galaxy S7 edge, yes, the curved screen, but it has curves on sides, the front and the back. The phone is the most smooth device ever from all edges and corners and looks like a big pebble.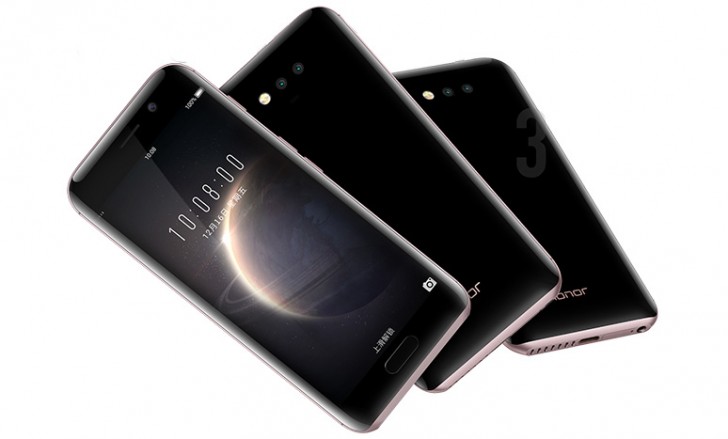 The phone offers a 5.09-inch quad-HD (2560 x 1440) Super AMOLED display with 577ppi pixel density under a curved glass. The device is 7.8mm thick and weighs around 145g.
The phone is available in two colours Golden Black and Porcelain White.
On the black there is dual 12-megapixel camera, a color and a monochrome lenses duo for capturing sharper images, similar to Huawei P9 and Honor 8. At the front there is an 8-megapixel camera.
Honor Magic runs Huawei's own customized OS "Honor Magic Live OS" over Android 6.0 Marshmallow.The phone surprising does not have Qualcomm's SoC but HiSilicon's Kirin 950 octa-cpore processors, which according to some critics is not suitable for playing and recording 4K videos and users might experience a little bit lag.
The phone has 4GB of RAM and dual-sim option, and no slot for the expendible memory card, but the phone has 64GB of internal memory.
Under the screen there is a hardware home button with fingerprint sensor.
You might be wondering that what it has new to offer beside the new look?
Well, the Honor Magic has its own magic, the DeepThink feature. DeepThink is a digital assistant that collaborates with the FaceCode, which means it uses infrared camera to recognize user's eyes to show notification on a locked screen. You can also feed the faces of your trustworthy friends and family members to let them see the notifications otherwise the device will not show the notification.
The device has a 2,900mAh battery, with a new quick charge technology Magic Power by Huawei. With Magic Power you can charge the phone from dead to 90% in an half an hour only. In 20 minutes it can power the device to 70% and in 10 minutes it will give a 40% charge without heating the device.
Huawei has started taking the pre-orders from today and may deliver it to users by 25 December.
The price of the phone is CNY 3,700, which roughly converts to $530. The sad part is the phone is only available in China and has no news of Huawei Honor Magic's appearance in International markets.