LAHORE: the Last message of Air hostess Asma who was among the five crew members along with 42 passengers onboard PIA's PKR-661 which crashed near Havelian Tuesday night, will move you to tears.
Asma texted to her father-in-law "Thank you, Abu," while leaving for the last flight that took her life, leaving her two children for regrets and lamentations to the immutable fact that they have been orphaned.
"She was very a good daughter. She took care of everyone in the house. She was my adorable girl," said Asma's father-in-law, who was at home looking after his two grandchildren when the tragic news came.
As per DailyPakistan report, Asma's father-in-law said he had telephoned Asma earlier in the day but could not get through.
Asma leaves behind four-year-old Talha and one-year-old Umme Hani, whose birthday was celebrated two days earlier. She has six siblings.
Besides Asma, air hostess Sadaf Farooq was also among martyrs. She belonged to Kallar Syedan in Punjab province. She had joined PIA eight years back as a crew member.
Among other crew members were Captain Saleh Janjua and Co-pilot Ahmed Janjua, who were operating the ill-fated ATR-42 turboprop plane.
First Officer Ahmed Janjua hailed from Karachi. According to family sources, Ahmed Janjua's mother and sister reached Islamabad after hearing the sad news.
The five crew members included First Officer Ali Akram, two air hostesses Sadaf Farooq and Asma Adil as well. The plane also had one ground engineer, the PIA spokesman said.
The tragic incident also claimed the life of renowned Islamic scholar and social activist Junaid Jamshed and his family.
Jamshed, along with his wife Nahya Junaid and their three children, was in Chitral for a Tablieeghi congregation
The news about Junaid Jamshed's death was instantly met with trauma and horror.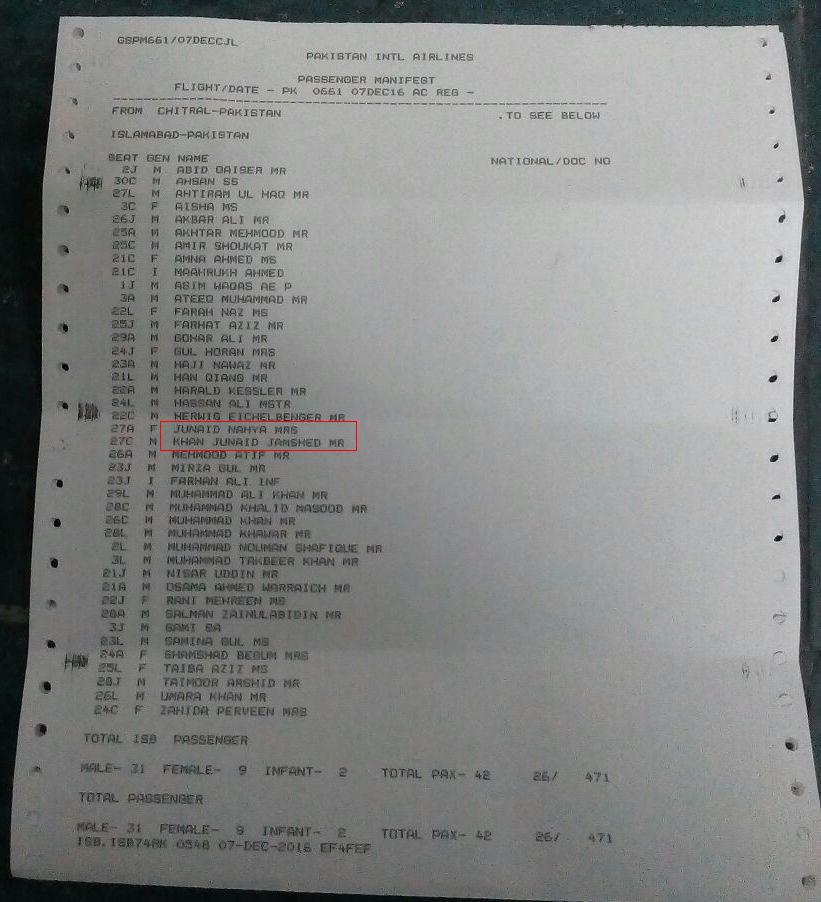 He also shared photos of his visit to Chitral with his Twitter followers.
Heaven on Earth Chitral.
With my friends in the Path of Allah . Snowpacked Tirchmir right behind us pic.twitter.com/ZajcWEKlrG

— Junaid Jamshed (@JunaidJamshedPK) December 4, 2016